From providing the design, performing the ground work for utilities, completing all supporting infrasture for housing developments, including of course, building complete turn-key homes, providing single solution. The easier question to ask would be, "What can't we do"?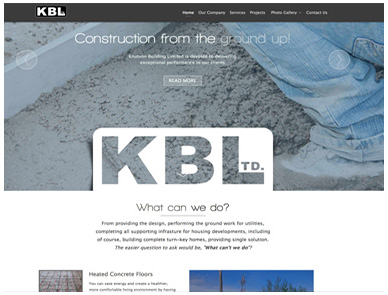 http://www.gokbl.com
KBL is a general contracting company with specialty concrete accounting for the single largest portion of sales, and the fastest growing sector of the company. Our projects include residential construction, water treatment plant rehabilitation and structural concrete, multi level commercial buildings, and remote area projects which require our onsite production of concrete as well as the placement and flat work finishing.

KBL aims to provide high quality craftsmanship in the commercial construction industry at a very competitive cost. It is the goal of the company to achieve a great reputation for quality and on-time delivery. KBL is committed to delivering on-time completion and high integrity on all our promised timelines and quality assurances.

Skilled construction labour is in strong demand across Canada. Manitoba's requirements are rising more rapidly than other regions and major utility and resource projects currently underway or proposed will compete for many of the same trades. We have developed a strong and mobile work force that enables us to do work anywhere in the province without limitations. This includes work in the far north and on first nation sites as required by client needs.

Our Business Philosophy is to be leaders in the construction industry in performance, execution, scheduling and overall customer satisfaction.