Welcome to OKNO Manufacturing Inc., your complete metal fabricating source since 1981. Looking for a specific part, piece of equipment or mass producer? Take a few minutes to browse our site and discover what we can do for you!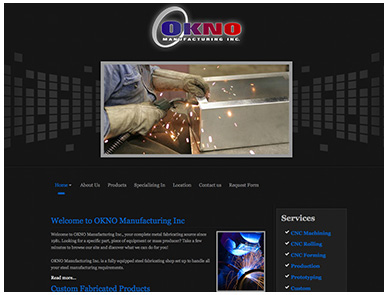 http://oknomfg.com
Okno Manufacturing Inc. was founded by Abe Penner in the summer of 1981-after moving from Belize to Manitoba. In 1967 Abe established and operated a small manufacturing plant in Belize. This was challenging as Belize is a small country and raw materials are very hard to come by. Being resourceful, Abe learned that he could scavenge much of the material he needed from old cars and farm equipment. Norm and Marvin grew up in the business and soon learned their father's inventive ways.

In 1994 the boys took over management of OKNO Manufacturing giving Abe the time to do the church ministries he loves. The business has been greatly blessed with steady growth and satisfied customers. Our philosophy for growth in the industry is simple: Accept and respond promptly to customer needs. By doing this as well as taking great pride in our workmanship and keeping our commitments we offer a strong and reliable solution to your manufacturing needs.
15 lakeside, waterfront, fully self contained units include.